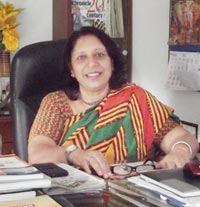 Manager's Message
Dear Parents and Students,
'Do not be scared of the strong gusts of wind, O Eagle, they will only make you fly higher' is an old saying. Indeed, every gust of wind, every challenge can only inspire one to reach for even higher goals. Setting up The Ganges World School is one such challenge that I've taken up and I know, with your support, I'll be able to make a success of it too. Why The Ganges World school ?, you may wonder. Well, having been a part of the education stream for 25 years, I've always felt there was so much more that me, an educationist, could give to the children. The present system, unfortunately gives them the degree, but not necessarily the wisdom & knowledge; it gives them education but not values & morals.
I have perceived many changes in society and unfortunately, not all of them are for the better. We have multiplied our possessions but reduced our values. We talk too much, love too seldom and hate too often. We have learnt to make a living, but no life. We have added years to life but no life to years. We have cleaned up the air, but polluted our soul. We are long on quantity, but short on quality. We are with higher incomes, but are lower with morals. These are the time of tall men and short character, steep profits and shallow relationships. We have bigger houses but smaller families, more convenience but less time. We have more education but less sense, more knowledge but less wisdom. We have been all the way to the moon and back, but have trouble crossing the road to meet our neighbour. We have conquered outer space, but forgotten inner values. All these changes make me ask a question - Has the level of mental horizon of a man risen?
Change it is said is the only permanent thing in life. In spite of all the black clouds there is a silver lining. There is still the light at the end of the tunnel. Here comes the role of education. Education can go a long way in changing the society for better. If only, each one of us contribute a little towards the betterment. Learning should be an enjoyable journey and the journey starts at The Ganges World School for us. At The Ganges World School the purpose of education is to help the child to discover the genius in himself/herself.
I pray to God to give me strength to take the institution to the pinnacles of glory and through it render service to humanity. We are offering something special and I invite you to come and share it with us.
Friends, today society is undergoing a vast change. The complexes and intricate problems that our children face today are more intense and manifold. Hence, the need for an education system that equips them to face these challenges and face them well, becomes even more the need of the hour.
The 'Ganges' will try to give our children a system that is away from the 'Cram' method, away from the loadful of books, away from the ever increasing pressure of homework and assignments to submit. It offers a system that is student oriented and student friendly.. We at 'Ganges' will endeavour to incorporate all that is the best and most modern in today's education system worldwide. Academics, Sports, Activities, Drama etc shall encourage each child to use his/her talent to the utmost and indeed bring out 'the genius' present.
Friends, it is a small beginning yet a new, promising horizon to look into; a fresh journey yet many exciting destinations to reach. I invite each one of you to be a part of this journey and share its joys and adventures. Come be a member of the 'Ganges' family. Looking forward to your support,
Thanks,
Mrs. Neeru Singh
Manager - The Ganges World School